A.D.A.: Ten ..... Sunset Trail: Zero

(spraypaint added, from California Coastal Access Guide, State of California, California Coastal Commission, Univ. of Calif. Press1997, p. 115)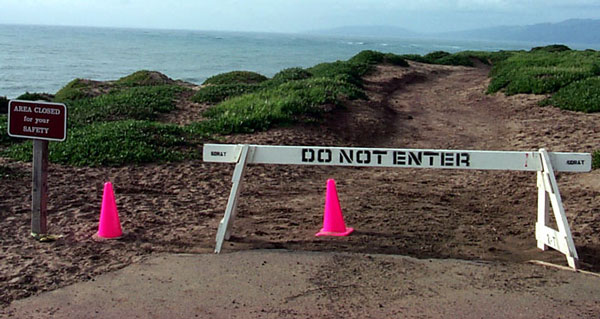 Some barriers, and some disabilities, are obvious. Here, the Sunset Trail was closed to all for several months.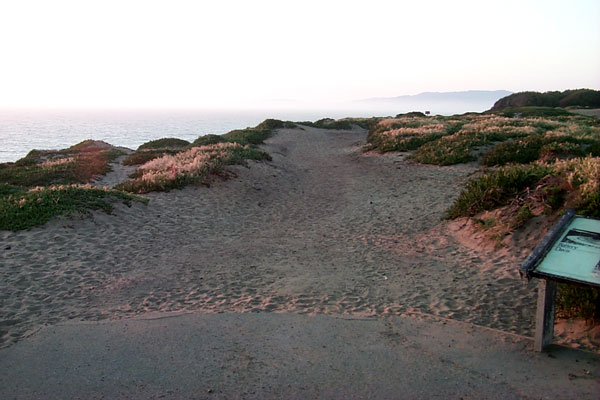 Other barriers, and disabilities, are less apparent. Today, the Sunset Trail is still closed to many people.

Americans with Disabilities Act (A.D.A.) Tenth Anniversary...
Awfully Quiet on the Sunset Trail
As the nation celebrates the tenth anniversary this week of enactment by Congress of the landmark civil rights legislation known as the Americans with Disabilities Act (A.D.A.), Fort Funston's Sunset Trail remains inaccessible to those with limited mobility.
The Sunset Trail was closed late last year with no notice, no explanation, no proposal, and no plan for receiving comments on the closure of one of Fort Funston's most scenic and beloved trails.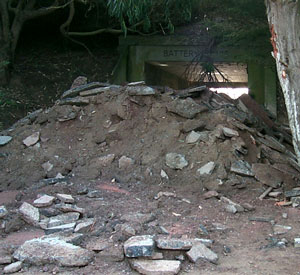 At huge expense, access-critical pavement was torn out.
Then in March, under threat of a federal lawsuit, the National Park Service "reopened" the Sunset Trail -- to some people.
The trail is now deep, drifting sand; wheelchair users and others with limited mobility have been shut out. The National Park Service may not be compelled to follow the A.D.A. (it has other rules), but it has called the Sunset Trail "an excellent example of an accessible trail".
At a time when barriers for people with disabilities are being dismantled and the nation celebrates ten years of guaranteed equal access for all, Fort Funston is a throwback to the "bad old days" when only certain groups were allowed to use public facilities for recreation.
---
To First Section of Fort Funston Forum