Rudy's Walk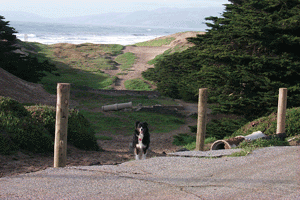 Hi, I'm Rudy! Please wait a couple of minutes for this slide show to load, and then come with me for a walk I used to take. It goes through a historic ruin, a wonderful valley, up over a splendid dune, down a chute to the beach, into the water, and back down the beach. Now proposed to be off-limits, AND the viewscape ruined by new fences. Why?
---
[ UPDATE: from May 21, 2000 ]
Oh, boy, am I excited now! The last time I took this walk, as you can see, fences were being built to keep me out. But come August, thanks to a preliminary injunction, I'll be able to take this walk again.
The battle's not over, the fences are going to remain for the time being, but I'm just thrilled that I will be able to walk through here again!
---
To First Section of Fort Funston Forum